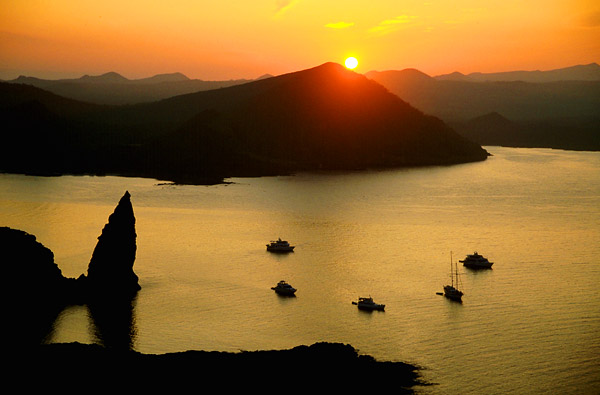 Of all the world's great wildlife destinations, Ecuador's Galápagos Islands ranks as one of the most rewarding for anyone interested in natural history or photography. Our Galapagos cruises offer the adventure traveler so many approachable species of exotic wildlife on this isolated archipelago,  located some 600 miles off the coast of northern South America. It was here, in the early 19th Century, that Charles Darwin encountered the puzzling array of life that later led him to formulate his Origin of Species.
Today, the visitor on a Galapagos cruise finds an almost storybook world of incredibly tame wildlife. Imagine yourself snorkeling face-to-face with sea lions, fur seals, and sea turtles,or viewing at arm's length colonies of nesting seabirds, marine and land iguanas and giant tortoises! At night, aboard your boat, marvel at the phosphorescent tropical sea and the blazing stars of the Southern Hemisphere's skies.
All guides on Galapagos cruises must be licensed and trained by the Ecuadorian Park Service. However, all of our regular staff guides not only have this standard certification, but also possess college degrees, usually in a biological science. This way we insure that you will receive broad and accurate information about the complex biological processes that the islands are famous for. All of our guides are fully bilingual (and so are much of our boat crews), and in many cases speak a third language. You can be assured that our guides are the best available in the islands.
Our boats are the finest luxury yachts available in the islands, maintained to international safety standards. All boats are air-conditioned, with in-suite bathrooms and showers, comfortable public lounging areas (both inside and out), and bilingual crews.
We firmly believe it is best to visit the islands in small groups with a low leader/client ratio; so our most of our ships have a leader/client ratio of only 1:8 to 12. All of our Galapagos cruises have Zodiac-style landing craft for shore excursions, and landings are planned to minimize the presence of other boats' groups.
Most of our sailing is done at night, in order to maximize your time to explore these enchanted islands. All yachts have snorkeling equipment on board and, when you're not ashore on the trails, you can snorkel with sea lions and even penguins. We have departures on Saturdays and Sundays, all year long.


Explore our Galapagos Islands cruises.

Inquire with our office for availability.